Quid pro quo, "what for what" in Latin, is a Latin expression translated into English as "a favor for a favor" or exchanging commodities or services where one transfer is conditioned upon the other. The expressions "give and take," "tit for tat," "you scratch my back, and I'll scratch yours," and "one hand washes the other" have similar meanings. For the same thing, different words are used in other languages. 
Originally, the Latin expression quid pro quo denoted a substitution, as in this instead of that. English speakers first used the term to describe the purposeful or fraudulent substitution of one drug for another in the 1530s, maintaining the original Latin meaning. By the close of the same century, the term "quid pro quo" had developed into a more modern way of referring to equivalent trades. The phrase "quid pro quo" first appeared in The Reign of King Charles: An History Disposed into Annals in 1654 and was commonly used to refer to something is done for one's benefit or with the expectation of reciprocity. "That proves not a nudum pactum, a bare compact, without quid pro quo," it says of the covenant with Christ. In exchange, Christ-followers must "forsake the devil and all his deeds." 
Quid Pro Quo Form of Sexual Harassment – What is it?
A form of harassment known as sexual harassment uses overt or covert sexual references and unwanted and inappropriate offers of incentives in exchange for sexual favors. Sexual harassment can take many different forms, ranging from verbal abuse to physical or sexual assault. Harassment can happen in various social contexts, including the workplace, the family, schools, and places of worship. Any sex or gender might be a victim or a harasser.
Quid pro quo is a type of sexual harassment that has been around for a while but has recently received some much-needed attention. It is typically committed by someone who has authority or influence over another. The form of sexual harassment that is the easiest to conceal is quid pro quo harassment. The offender utilizes it, just like other types of sexual harassment, to obtain or keep control over the victim. Quid pro quo sexual harassment typically happens when a supervisor asks a worker for sexual favors in exchange for a workplace benefit, such as a raise, better hours, promotion, etc., or to prevent a detriment, such as a pay cut, demotion, negative performance assessment, etc.
How to prove instances of being subjected to quid pro quo harassment? 
If an employee wants to hold their employer liable for workplace quid pro quo sexual harassment, they must be able to demonstrate certain requirements. And although each case is unique, the following factors are typically necessary to establish quid pro quo harassment:
Employees must demonstrate that they belong to a protected class. In this context, federal law, namely Title VII, protects them and all other employees from workplace discrimination based on sex.

Unwanted sexual advances were made against the employee by another worker, usually a supervisor or corporate officer.

Aspects of the employee's career, such as pay, promotion, or demotion, were negatively impacted due to their response to sexual advances.

According to the legal doctrine of respondeat superior, the employer is responsible for the harassment if the accused harasser had authority over the employer, either as their direct supervisor or by having the ability to affect the terms or conditions of the employee's employment.
Examples of Quid Pro Quo Harassment
Examples of Quid Pro Quo Harassment include:
A manager who demands sexual favors in exchange for employment, promotion, progress, or opportunity

If a boss makes sexual favor demands that are not met or are repeated, the employee may face termination, transfer, demotion, or other negative work-related consequences.

A manager offering or granting a raise or promotion to a worker in exchange for actual or anticipated sexual favors

A manager offering a worker a good job or a seat at the annual convention in Hawaii with the understanding that the worker will return a good job with sexual favors
Are threats enough to prove quid pro quo harassment?
An employee would have to demonstrate, among other things, that their response to their supervisor's sexual approaches had a detrimental impact on their job.
What happens when a manager makes a threat but never carries it out? Imagine, for instance, that a manager threatens to demote or terminate an employee if the latter refuses to consent to sexual approaches.
What happens if the employee rejects the supervisor but they don't follow through? Does the employee still have a case for sexual harassment in exchange for something? No, the employee would not typically have a quid pro quo claim. 
In reality, quid pro quo harassment typically calls for the employee to face real, concrete employment repercussions after refusing to comply with their harassing supervisor. Additionally, unfulfilled threats that are never carried out are frequently insufficient. Therefore, even though instances like this could initially seem to contain quid pro quo harassment, they typically don't.
Even if the supervisor doesn't carry out their threats, this form of harassment will often still support a claim for a hostile work environment, so the employer may not be completely off the hook.
How to prevent Quid Pro Quo Harassment in institutions and organizations?
Companies may take action to reduce the incidence of quid pro quo sexual harassment by putting in place clear rules and, more importantly, upholding them. They can do a variety of tasks, including:
Establish and uphold a documented equal employment opportunity policy that forbids sexual harassment and retaliation and ensures that employees can easily access it.
Create a reporting process for employees who experience sexual harassment in exchange for a favor.

Establish a method for staff members to discreetly and anonymously submit grievances.

Respond to concerns immediately and equitably.

Investigate complaints covertly, and take necessary disciplinary action.
The quid pro quo sexual harassment policy should be distributed and posted.

Have the whole corporate leadership publicly condemn such behavior.
Legal remedies and punishments available for Quid Pro Quo Harassment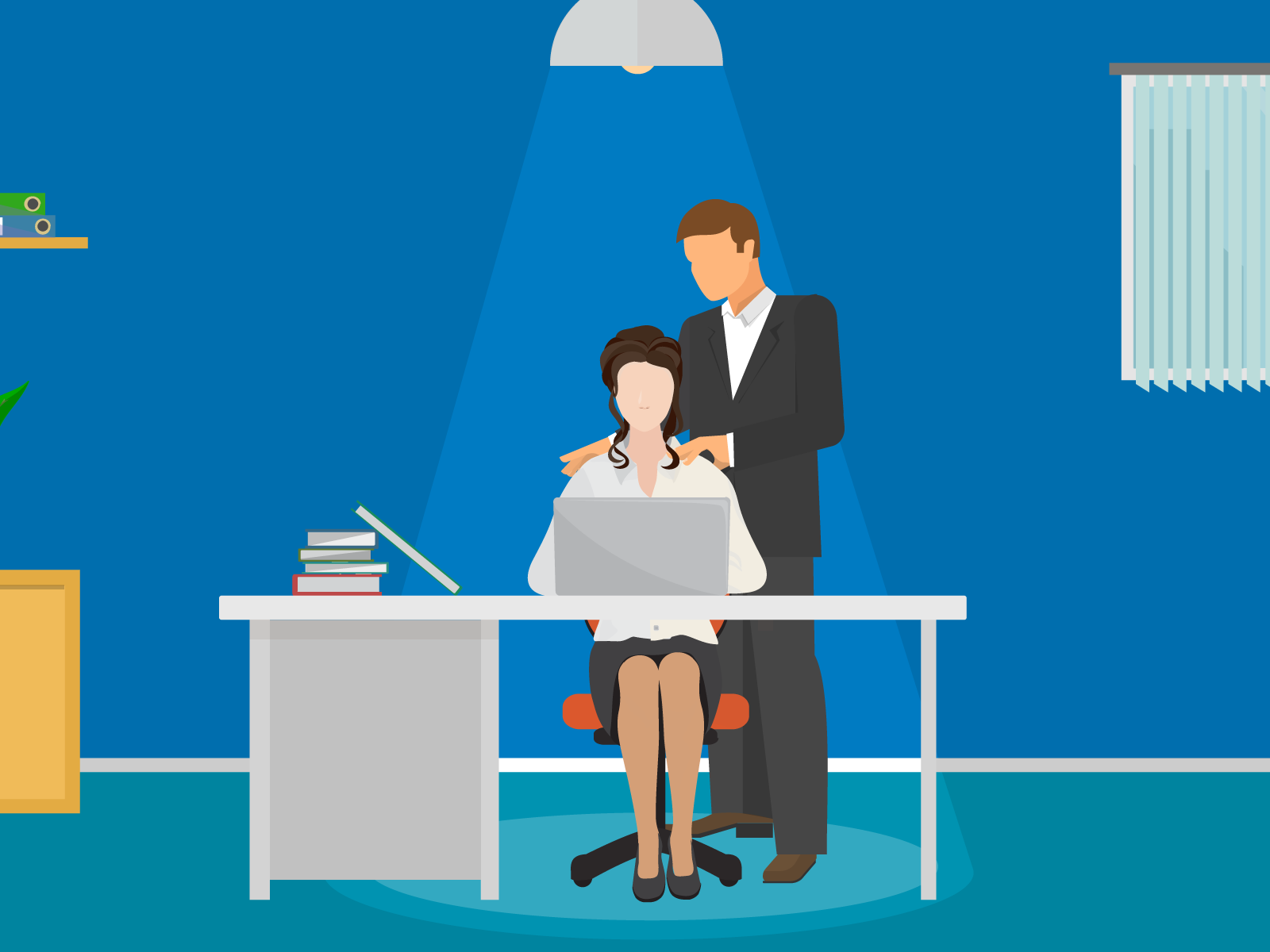 When someone has been the victim of quid pro quo harassment, they might want the offender to be punished and barred from doing it to anybody else in the future. Punitive damages are uncommon, although courts have granted them in cases of particularly heinous sexual harassment offenses to deter similar conduct in the future.
To help victims recover losses like missed employment chances, lost pay, or lost benefits – or even obtain a job back, that was lost due to the quid pro quo harassment – courts more frequently ask for compensatory damages. The court may grant emotional anguish damages in certain circumstances.
A plaintiff may receive compensatory damages for lost pay, lost benefits, or even lost employment chances; in some circumstances, they may also be eligible for damages for emotional anguish; and may be given their job back. Punitive penalties may also be granted for extremely egregious infractions, albeit not frequently given, to discourage the defendant from committing or permitting sexual harassment in the future.
The standard procedure for employees seeking justice for an allegation of quid pro quo harassment is to first submit a complaint with a state or federal labor protection agency (claimants have 180 days in which to file with the U.S. Equal Employment Opportunity Commission).
Conclusion 
A long-standing form of sexual harassment called quid pro quo has finally gotten much-needed attention. Usually, it is done by someone who has power or influence on another person. Quid pro quo harassment is the type of sexual harassment that is the simplest to cover up. Like other forms of sexual harassment, the perpetrator uses it to gain or maintain power over the victim. Quid pro quo sexual harassment typically occurs when a manager solicits a worker's sexual services in return for a professional benefit, such as a pay increase, more favorable working conditions, a promotion, etc., or to avoid a disadvantage, such as a pay reduction, demotion, unfavorable performance review, etc.